Ballet in Architecture – from fluid architecture to interactive design
For quite some time now, the highly global wish to stop separating ourselves from both the natural world and our technology has had a noteworthy influence over the design and the architectural world. We are entering an age of entanglement, in which everything connects through both biology and technology, in which the analogies between architecture, fashion and the space industry are not that far-fetched anymore. But what are the first things to prove it, except for theory and manifesto texts?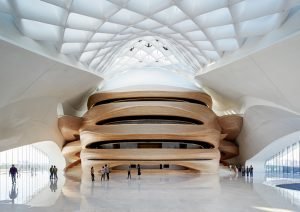 In architectural design, one of the first approaches to connecting our buildings to the nature around us, to the dynamic state of the cities  and to our chaotic but evolving way of living our lives was introducing the idea of fluidic architecture.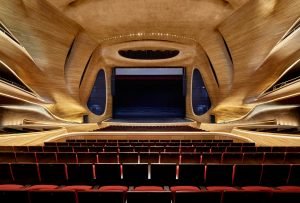 Unveiling the spirit and force of the city, the cultural context and landscape of the surrounding area, fluid architecture is able to speak for its time and space and to embrace the idea of future development. It can learn from the zeitgeist. And once it learns, it can evolve. It's a bit human like.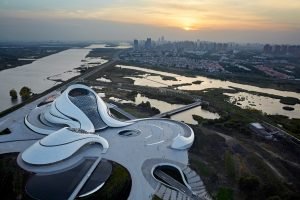 One example of fluidic architecture is MAD Architects' Harbin Opera House, which does not only experiment with the exterior shape, but it also reveals a ballet of materials used for the warm interior accompanied by a symphony of light.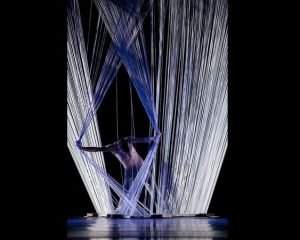 Further design projects exposed the idea of human beings interacting with objects, which is something truly used sometimes in ballet choreography, but this is another story. If curious, I will let you with one example: Triangle of the Squinches – a Collaborative Ballet.
Now let us plunge into the so called responding design. It took only a step from interactive design to creating objects – and even daring to wonder about architecture – that responds to the human presence or to the environmental changes. And this is where it all connects: from color changing hair dye, wearable devices to respond to sweat and humidity, art installations that will learn from their interactions with participants (see Minimaforms' Petting Zoo picture below) to breathing walls that control your home's temperature.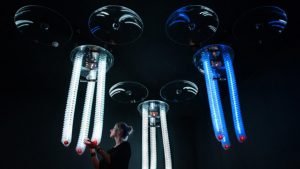 This being a research domain, there are still questions to be answered and I guess even more still to be asked. But one thing is for sure: "Future is Now" , to quote Nam June Paik.
http://www.archdaily.com/778933/harbin-opera-house-mad-architects
http://architizer.com/projects/triangle-of-the-squinches-a-collaborative-ballet/
http://www.wired.co.uk/article/london-fashion-week-unseen-fire-hair-dye
https://www.dezeen.com/2015/11/04/mit-media-lab-tangible-media-group-biologic-material-bacteria-fashion-design/
https://creators.vice.com/en_us/article/ipetting-zooi-interactive-robotic-creatures-that-evolve-over-time
Source: Anca Badut
Photo/video source: Anca Badut