Atletico Madrid stadium enlighted by Philips
Philips Lighting, global leader in Lighting, and Atletico Madrid announced today an agreement to supply the lighting of the club's new stadium. Philips Lighting becomes Atletico Madrid's official lighting partner for the next four seasons where the new stadium will be the first in the world to benefit from Philips ArenaExperience.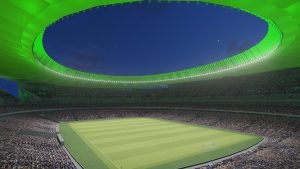 Philips ArenaExperience multi-purpose LED stadium lighting system, Atletico Madrid will harness the power of lighting to impress its visitors, both outside and inside the stadium. The system will use LED lighting for the pitch, stadium facade and hospitality areas.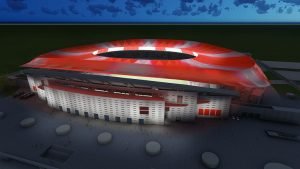 Miguel Ángel Gil, Atletico Madrid's CEO on the agreement, "Philips is an ideal partner. Its respected corporate profile and position at the forefront of global LED lighting technology, guarantees that our fans will be able to enjoy the best lighting experience in our new stadium."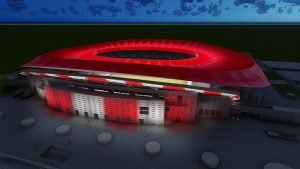 "We are proud to be able to play a part in the history of Atletico Madrid by lighting the new stadium", said Josep Martínez, CEO of Philips Lighting Spain and Portugal.  "The lighting is designed specifically for this new space and takes light to another dimension." he added, "It brings the stadium to life for fans from the moment they approach it from afar – to when they enter and experience the new premium hospitality area – right through to vivid illumination of a match on the pitch as well as on TV screens at home."
Source: Philips
Photo/video source: Philips