SIEMENS new corporate Headquarters, Munich
After a six-year project period, including three years of construction work, the new Siemens headquarters building in Munich opened its doors on June 24, 2016. With about 45,000 square meters of aboveground floor space, the company has created a modern, inspiring work environment for about 1,200 employees.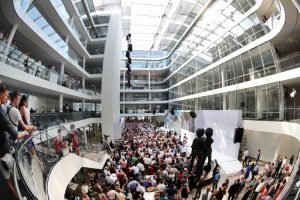 Environmental friendliness and energy efficiency play a key role here: the new building meets the world's highest sustainability standards. In 2010, Siemens and the city of Munich officially announced the launch of this innovative construction project and organized an architectural competition. The winning design, which was developed by the Danish architectural firm Henning Larsen Architects, skillfully combined tradition with the future. The historic Ludwig Ferdinand Palais and its adjacent building were renovated and seamlessly integrated into the new cutting-edge headquarters. Ever since the building opened in the summer of 2016, its ground floor and inner courtyards – with trees, a café, a restaurant and a water feature – have been publicly accessible. The new Siemens passageway creates a pedestrian corridor enabling Munich residents and visitors to stroll between the Bavarian capital's historic center and its museum district. The project was implemented by Siemens Real Estate, which is a leading corporate real estate company and is responsible for all of Siemens' real estate activities.
Source: Siemens
Photo/video source: Siemens