Why all industries depend on IIoT and logistics for supply chain success
Across the five main areas of IoT (wearables, home, cities, enterprise, environment) and the key verticals we cover (manufacturing, energy, oil, automotive, healthcare, government, insurance), you could say the whole IoT spectrum depends on logistics to some degree. All industries rely on a functioning, optimised logistics environment and the Internet of Things will make this quicker and easier in 2017 and beyond. And if you're used to IoT as an abbreviation, you can add IIoT (Industrial Internet of Things) to the mix because away from all the consumer-focused tech buzz, the work in IIoT is often what trickles down to developments at a consumer level.
With some understandable nervousness around logistics personnel changes through automation, it's likely that the moving parts of logistics in future will be less 'on the road' and more in the control room. A centralised, data-led logistics industry looks to be the reality for many businesses, and all in the name of efficiency: efficiency of route, efficiency of load, efficiency of the whole system. If you want to succeed in logistics in 2017, adapt to the Internet of Things and master the data game. Speed and data-led agility will be the game changers for success.
Here are some ways logistics and IIoT will have an impact across the board in the coming months:
Manufacturing
As mentioned before, the manufacturing sector has used automation for more than 40 years, but the play now is to link up already automated elements of the manufacturing supply chain with new processes to extend it far beyond the walls of the warehouse. Lean production no longer has to be a rarely attainable manufacturing ideal; with IoT-enabled logistics an extension of the manufacturing process the dream of zero waste is more achievable than ever before. You can find a longer discussion between Bosch and McKinsey experts here, and further reading from Deloitte's innovations blog is also recommended.
Energy and Oil
Such is the geographical disparity often found between locations in the oil and gas industry, and the vast scalability required for a successful national energy infrastructure, that IIoT-enabled logistics is much more than just a nice-to-have in 2017. Much development is unseen, offshore and out of sight. With the IoT energy market set to triple in value to more than $22bn by 2020 according to a recent report, A fairly IoT-mature industry looks likely to use the improvement (safety procedures, productivity gains) as much as the implementation aspects of IoT. PR Newswire provides a short analysis of the latest research report here.
Automotive
Automotive drives advances in logistics and vice versa. If commercial vehicle developments are the visible side of IoT, expect at least as much activity behind the scenes in heavy industry. Whether it's on-demand 3D printing of machine parts or deeper integration of location data for further supply chain streamlining, expect vehicles of all shapes and sizes to benefit from improved maintenance, and an optimised journey from factory to freeway.
Healthcare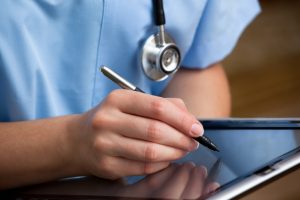 From rapid transfer of life-saving drugs to deployment of healthcare equipment between facilities (and the attendant predictive maintenance challenges these will bring) logistics advances through IoT enablement (smart loading, real-time journey optimisation, admin streamlining) could be the difference between life and death on a global scale. According to some research 25% of vaccines reach their destination degraded because of incorrect shipping. IoT has the opportunity to reduce this figure significantly.
Government
While work in IIoT usually operates independently of government, authorities are still responsible for enabling a functioning logistics infrastructure in their cities. Through overseeing of crucial public-private infrastructure partnerships that many cities and countries rely on to make them tick, governments help set the rules for logistics initiatives to succeed or fail. This is what logistics firm CH Robinson has to say.
Insurance
As the fintech market expands and develops, so does the wider insurance industry and its contact with IoT and logistics. Providing more accurate premiums through data-led, tech-driven improving of its data capture is just one market win here for insurers, and logistics companies could play a big part in showing that the stereotype of financial services companies as slow on the uptake of tech is as outdated as your old driving licence. With a more tech-savvy workforce coming of driving age, you can see how important IoT-enabling insurance and logistics is going to be for the business in future. Here's Internet of Business's take.
Conclusion
In much the same way as the Internet of Things as a whole blurs those lines between data, tech and industry verticals, logistics also impacts the other industries around it. We'll see supply chain management begin to use more and more elements of its environment, which will see logistics initiatives bleed into the realms of other IoT areas as communication between devices increases.
Source: IoT Tech Expo
Photo/video source: IoT Tech Expo