Silver Spring Networks Introduces the IoT Edge Router™, Enables Simple and Secure Integration of Smart City Devices and Applications
Expanded IoT Platform for Wide Range of Applications Such as Parking Kiosks, Traffic Lights, Utility Substations, EV Charging Stations, Environmental Sensors, Cameras, and More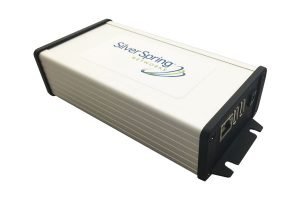 In November, at the Smart City Expo World Congress, the world's largest smart city event, Silver Spring Networks, Inc. (NYSE: SSNI) unveiled the new Silver Spring IoT Edge Router™, expanding the capabilities of its globally proven Internet of Things networking platform. The IoT Edge Router enables cities and utilities to easily, securely, and cost-effectively integrate a wide array of devices and applications to their existing Silver Spring IoT networks. With the standards-based IoT Edge Router, network operators can simply 'plug and play' new and legacy smart city devices into these already deployed networks, such as smart street light and smart grid systems. The ability to cost-effectively integrate and transport data from these devices, such as smart parking stations, intelligent transportation systems, bicycle rental kiosks, EV charging stations, digital signage, environmental and lighting sensors, substation monitors, and more, helps cities and utilities reduce the costs of testing and deployment, improve civic service operations and citizen engagement, and create new revenue streams and innovation opportunities.
"Bristol Is Open is creating an open programmable city," said Paul Wilson, its Managing Director. "Silver Spring has helped us by supplying its IPv6 wireless canopy to connect devices such as street lights, traffic control systems, and other sensors. We will integrate the new IoT Edge Router into the environment to allow us to easily deploy more devices and applications as we establish an advanced Internet-of-Things environment."
"With the introduction of the IoT Edge Router, Silver Spring is making it simpler and more secure to connect smart city devices and applications," said Brandon Davito, Vice President of Smart Cities, Silver Spring Networks. "Historically, the costs and complexity of deploying and operating single-purpose networks has prevented many cities from realizing the potential of the IoT. Now, the Silver Spring IoT Edge Router enables cities to take a 'no compromises' approach – they can easily add new types of smart city devices to their existing network, without sacrificing the performance and security they need and without succumbing to the exorbitant costs and lock-in of cellular or other proprietary solutions."
The IoT Edge Router: Simple and Secure Integration of Smart City Devices
Silver Spring Networks has delivered more than 22 million critical infrastructure devices on five continents. Cities such as Bristol, Copenhagen, Glasgow, and Paris are deploying Silver Spring's wireless IPv6 network canopy to connect and manage their street light and traffic control systems. With the IoT Edge Router, cities and other networks operators such as large-scale utilities and energy services companies can now simply plug in and control new or existing smart city devices to their Silver Spring wireless IoT network. This eliminates the cost and complexity of purpose-built proprietary networks that cannot keep pace with the performance, security, scale, and reliability requirements needed for the Internet of Things.
The multi-application IoT Edge Router provides network operators with visibility, manageability, and at-the-edge insights on a single platform for connected devices. With the introduction of the new IoT Edge Router, customers will be able to benefit from new capabilities including:
Multi-Protocol Support: whether IPv4 or IPv6, support will be available for a variety of protocols and network transports, including BLE, Wi-Fi and ZigBee, to ensure interoperability, simplicity of data exchange, and speed of deploying new devices.
Edge Intelligence: The compute and mesh-based communications in the Linux-based IoT Edge Router allows devices to communicate with and control each other at the edge of the network, and provides a platform to test and develop next-generation smart city applications such as data analytics, real-time sensors, and dynamic lighting and traffic flow monitoring, among many others.
Accelerating Innovation and Revenue: The IoT Edge Router provides a platform to develop new smart city applications. By leveraging the shared networking platform and the associated data collected across the network, administrators can realize richer insights into city operations across departments. This also unlocks new revenue-sharing opportunities by making the data available to application developers and partners, which in turn drives innovative new applications. These applications can be delivered by third-party developers, be developed in-house, or purchased from the SLV6 App Store, that Silver Spring Networks announced last month as part of its new SLV6 City Management Platform.
Near-Limitless Extensibility: the 'plug-and-play' nature of the IoT Edge Router enables cities and utilities to easily extend their networks with almost no fixed limit to the number of devices and breadth of applications that can be supported. As network operators' needs grow, the IoT Edge Router combined with Silver Spring's flexible network architecture allows them to cost-effectively extend capabilities in an easy-to-manage fashion.
Comprehensive, High-Performance Solution for Smart Cities
The Silver Spring IoT Edge Router expands the capabilities of Silver Spring's fifth generation networking platform – Gen5. The groundbreaking Gen5 networking platform raises the industry bar on what cities, utilities, and other network operators should expect from their IoT communications networks including a 4X increase in speed (up to 1.2 Mbps), a 3X reduction in latency (10 milliseconds), and a 3X increase in range (up to 50 miles). Silver Spring's Gen5-based "Milli" Communications Module 5 removes many of the cost, power, and size limitations to reliable communications for small, battery-powered edge sensors, unlocking a new era of connectivity for smart cities and the Internet of Things. The "Milli" platform offers almost 2X more operational life and 5X more coverage at 1/5th the power consumption and is nearly 7X smaller than previous form factors, enabling the connection of historically cost-prohibitive or power-starved devices and sensors for up to 20-years in the field.
This array of IoT sensors, devices, and data can be controlled, commanded, and monitored by Silver Spring's management software, including the SLV6 City Management Platform, which provides cities, utilities, and energy services companies with a complete solution to manage smart city devices and create more value from their existing networks. The SLV6 platform also includes a new developer program and App Store to empower device and software partners to create new smart city applications and widgets and give customers even more innovation and choice.
Source: Silver Spring Networks
Photo/video source: Silver Spring Networks