Everything Comes Together
Materials like aluminum and carbon are making our cars, rockets and ships lighter and lighter. However, perfect materials alone cannot guarantee the best possible results.
The lightweight construction trend in the industrial sector continues unabated. By 2030, the annual turnover with lightweight components made of high-tensile steel, aluminum and carbon-fiber-reinforced plastic is set to explode from roughly 70 to over 300 billion Euros . By far the most important market for this is the transport sector , followed by the aerospace and shipping industries. The legally-mandated CO2 reduction for automobiles by 2020 is one reason why the lightweight construction trend remains so dynamic. That makes electric drives – and lightweight construction – increasingly important for the automotive industry. Batteries are heavy, so manufacturers have to find other areas where they can save weight to improve the range of electric vehicles. However, lightweight construction is catching on more and more in other transport and industrial sectors thanks to the potential efficiency improvements and environmental benefits.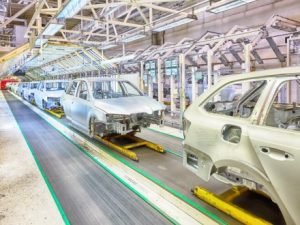 The perfect material mix
Lightweight construction centers on new and established materials which offer weight saving potential. They include lightweight metals and increasingly also carbon-fiber-reinforced plastics in particular. Manufacturers strive to combine them to perfect products, maximizing the benefits of the individual materials. For example, in the electric BMW i3: Its bodywork is lightweight carbon fiber, while the chassis is made of durable aluminum . In spite of its 300 kg battery, it tips the scales at a standard weight of just 1.2 metric tons. The motto for the perfect material mix is "the right material in the right place." The challenge here is not just finding the right components – with different materials, the end product can only be a success if the individual components are joined correctly.
Innovative joining technologies are in demand
The latest research focuses on ways to bond multi-material systems reliably . The automotive and aviation industries can only benefit from increasingly efficient, robust or lighter materials, and combine them optimally with one another or with other materials like steel or glass if they use the right joining technologies.
Today, adhesive technologies are currently the key joining process . They have made significant advances in recent decades, especially for mass production. Almost all materials can be joined permanently using adhesives – without compromising the material properties. Compared with welding or soldering, adhesion generates virtually no heat, which can adversely affect materials. And unlike parts joined by riveting or bolting, the materials maintain their stability. Adhesive technologies also have other advantages: They insulate, seal and protect the end product against corrosion.
In spite of this, these technologies are not always suitable – adhesive bonding can cause stresses in expanding materials, for example in aircraft or trains. In these applications, mechanical technologies like riveting could be a better way to connect components with one another. Researchers are currently working on other alternatives to bond materials reliably with one another without quality losses. Laser-based technologies, or nanofilms like those currently in development by researchers at Munich University of Technology are potential solutions to this problem .
Source: Hannover Messe
Photo/video source: Hannover Messe