Google revealed an update to its IoT OS-Android Things
GGoogle has revealed an update to its IoT developer platform: Android Things . The new features should accelerate and facilitate the development of IoT applications. Android developers can also use tools with which they are already familiar, such as the Android software development kit (SDK) Android Studio, Google Play Services, and Google Cloud Platform.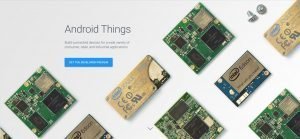 Android Things is still currently available only as a Developer Preview, with plans to significantly further develop it in the coming months. As stated in Google's notification, a series of hardware solutions are already available for developers to use to create functional products with Android Things, such as the IoT chip system Intel Edison, the NXP Pico module which is compatible with this, and the Raspberry Pi 3 board.
Learn more here
Source: Cebit
Photo/video source: Cebit