Atos uses Big Data analytics for safer streets
Dutch city of Eindhoven is one step ahead thanks to innovative CityPulse pilot
Atos, an international leader in digital services, leads a consortium to provide the City of Eindhoven with an innovative solution to increase safety on the streets. By using big data intelligence, authorities are able to make informed decisions on what they need to do to keep the streets safe at night. First results of the CityPulse pilot have been analyzed and are proven to be successful.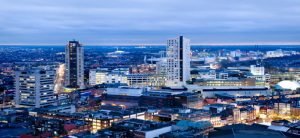 The CityPulse pilot has been developed by Atos together with key partners including the Dutch Institute of Safety and Security (DITSS) and Intel. Its aim is to help the City of Eindhoven manage the Stratumseind street in the centre of town. This is the longest pub street in the Netherlands, where more than 50 bars and nightclubs welcome up to 20,000 visitors every weekend.
Bianca van Kaathoven, Vice major the City of Eindhoven: "The CityPulse pilot project is important to us since Eindhoven is an innovative city. We use public spaces to develop new, innovative ideas. CityPulse is helping us to make Stratumseind a safer and more enjoyable place for everyone. We are impressed by the first results and the work that Atos has achieved managing a consortium of various partners."
Atos is a pioneer to lead this innovative pilot that combines both big data analytics and real-time analytics with privacy guarantees. Its data scientists use intelligent patterns and insights of the gathered data to inform authorities and trigger specific actions. Besides analyzing video data and sound data of the surveillance and security cameras and microphones, social media is also used to create a complete and clear picture of the alley. This will help authorities to respond to situations and to prevent escalation.
Anticipated benefits to the city
Safer nightlife and a more sociable environment for both visitors and citizens, which could result in attracting more visitors and enabling new business and entertainment opportunities for the City of Eindhoven
Less need for emergency resources due to fewer incidents
Lower repair and clean-up costs for the city and the pub owners
Police resources can be used more efficiently and are only requested when data shows a significant need
Albert Seubers, Head of global Strategy & Business Development SmartCity at Atos: "The concept of using Big Data analytics for data that's gathered from a variety of existing sources can be extended to include a number of other areas – for example giving citizens alerts when pollution, levels reach a certain threshold, or automatically redirecting traffic when parking or congestion parameters are reached. There are no limits to the challenges this solution can help your city address. We are proud to have lead this consortium that includes partners like DITTS, and look forward to be working on similar projects in other countries and sectors as this solution can be implemented and personalized anywhere, anyhow, while maintaining the strictest security and privacy levels".
Rob Pols, CEO at Atos in the Benelux & Nordics concludes: "Many businesses are considering how to extract value from big data. Atos adopted the CityPulse pilot because of its expertise in big data analytics, its investment in R&D and innovation and vast experience of analyzing real-time data".
How CityPulse works:
Data is captured from three different streams: video, audio and social media analysis. We combine the 'on the ground' information with data gathered online to create a powerful picture of the street. This helps authorities to predict and respond to situations and de-escalate incidents.
Five entrances to the pedestrian street are adorned with cameras and microphones, which feed data in real-time to the police command and control centre in the city.
Big data analytics ensure that any anomaly to what is considered a 'normal' data pattern can be cross referenced against the other data sources. State-of the-art devices and expertise are used, e.g., a 3D sound system by Sorama, sensors and cutting edge camera technology by Vinotion.
Respect of privacy is guaranteed as the gathered video data will be blurred at the source which excludes personal or facial recognition.
Use of Intel technology enables data to be gathered from a wide variety of sources without the need for specialist sensors.
Data scientists create intelligent patterns and insights of the gathered data to inform authorities and trigger specific actions.
Once data sources confirm an incident, the CityPulse dashboard alerts the first responders in the control room allowing them to make informed decisions on any additional action that may be required, e.g., adapting lighting levels or let more police patrolling the street.
For more information, please watch this video.
Source: Atos
Photo/video source: Atos