Bigbelly Smart Waste and Recycling Revolutionizes Waste Management in the UK
Beautifying public spaces and improving quality of life
Bigbelly, Inc., the leader in smart waste and recycling management, announces that across the UK people benefit from Bigbelly bins on the high street. The smart, cloud-connected Bigbelly system intelligently gathers, consolidates, and analyzes data from connected waste and recycling units for a complete waste management solution that beautifies public spaces and increases operational efficiency.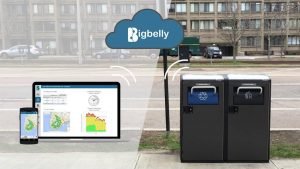 Numerous UK councils have piloted the Bigbelly system. Islington, which is running a pilot in Upper Street (its main high street), placed 30 smart stations at busy litter hotspots. People can find Bigbelly in Rugby, Chester and Coventry, and other London areas including Bath, Chelsea; Dún Laoghaire; and Orkney Islands.
Cllr Claudia Webbe, Islington Council's executive member for environment and transport, said, "We're committed to improving the environment for all who live, work, and visit Islington. These pioneering new units with their advanced compaction feature an ability to send signals back to the Council when full. This will help tackle recycling and waste at our busiest hotspots."
Bigbelly's sensors and data intelligence trigger text and email notifications to Council staff when units near capacity. This aids smart decision making for collection route scheduling, and ensures total waste containment and public space cleanliness. Solar power drives built-in compaction allowing units to hold up to eight times more waste than normal bins. Reducing collection frequency translates to appreciable benefits to residents and businesses – direct savings (less fuel consumption, efficient use of staff), increased property values from cleaner streets, and improved quality of life with less roadway congestion and an overall healthier environment.
Matt Crisp, UK managing director, Bigbelly Solar UK, said, "We are transforming one of the least efficient and most resource-intensive industries – public waste collection and on-the-street recycling."
Technology Innovations Drive Smart City Initiatives
Today's Councils want systems that can accept sensors, devices and applications for Smart City initiatives. Enhancing already existing structures or processes will allow Councils to collect data – noise, footfall, temperature, air quality – for improved management of physical assets (streets, lighting, buildings, traffic management, etc.), or new or improved city services.
"The pace of technology innovation allows us to expand smart core city services and to host a wide array of applications providing even further capabilities in core city infrastructure," Jack Kutner, CEO of Bigbelly. "Throughout the UK, investments in the Bigbelly system are being made to deliver services through a smart, connected infrastructure that provides substantive benefits beyond cleaner, safer streets."
About Bigbelly
Bigbelly, Inc. is the world-leading provider of smart waste & recycling management solutions with more than 1,500 customers in 47 countries. Solar powered, the Bigbelly Smart Waste & Recycling System combines cloud computing with smart compacting waste and recycling stations. The system helps customer beautify their public space and reduce operational costs by 70-80 percent.
Source: PR Newswire
Photo/video source: Bigbelly