Neptune Assists Water Utilities in Drought Management with NGO™ and NVIEW™ Software Applications
The drought that has gripped much of the western United States continues unabated across California, Nevada, Oregon, Washington, and Idaho. Long-term moderate drought conditions are now occurring in such disparate areas as Arizona, Georgia, and Connecticut. As dry conditions persist, Neptune Technology Group continues providing answers to counter the drought, including the latest in metering software applications.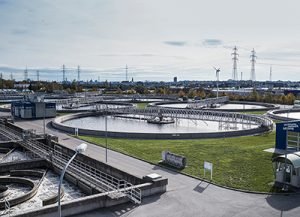 With new apps such as Neptune's NGO™, water utilities can use their existing Android-compatible smart phones or tablets to analyze data logging information from a wide range of water meters immediately in the field. That information can then be shared as graphs on-site with consumers to show them exact times and amounts of their water usage. With knowledge of this consumption, as well as any possible leaks that need fixing, the consumer can take actions to save water. NGO is ideal for use in mobile and walk-by AMR (automatic meter reading) environments.
For AMI (advanced metering infrastructure) system deployments, water utility personnel can view and manage  crucial metering data anytime, anyplace with Neptune's NVIEW™ mobile app. Designed to complement N_SIGHT™ PLUS host software, NVIEW supports water conservation through integrated Esri®-based GIS mapping. Its priority alerts pinpoint meters with leaks or reverse flow, inactive accounts with usage, and high-consumption accounts – areas where water is being wasted. In the office or the field, personnel can use NVIEW to see details for each account within the system – including the latest readings, peak consumption, and daily and hourly consumption.
"In times of water scarcity or abundance, our industry now recognizes that water efficiency will continue to play a major role in the life of a utility," said Kent Murray, Vice President Marketing, Neptune Technology Group. "Applications such as NGO and NVIEW give utilities tools that go beyond reading and billing to identify where water is being lost, so that they can save precious water by capturing Non-Revenue Water."
Siemens helps transform the main wastewater treatment plant in Vienna into a green power plant
Use of sewage gas for power generation
Siemens supplies the control, measuring, analytical and electrical energy systems
New procedure for energy-efficient treatment of sludge
Contribution toward climate and environmental protection as well as sustainable power generation
Siemens will support the city of Vienna in optimizing its main sewage plant in terms of energy. For this purpose, Siemens is supplying the control, measuring, analytical and power distribution systems, as well as the low-voltage and medium-voltage switchgear. Furthermore, the order includes the installation and commissioning of the individual systems. The order is worth around 24 million euros and is part of "E_OS 2020" (Energy_Optimization Sludge Treatment), the largest environmental project ever undertaken by the city of Vienna. As from 2020, the main sewage plant will use sewage gas to generate autonomously all the energy required for the wastewater treatment. For the sewage treatment itself, a particularly efficient method is used with reduced water content and double the solid content. This considerably reduces the energy consumed during anaerobic digestion and gas generation. The main sewage plant, which currently is among the largest energy consumers in the community, should generate an output of 78 GWh of electricity and 82 GWh of thermal energy. In total this method should save about 40,000 metric tons of CO2 per year.
Christian Gantner, Director General of the ebswien main sewage plant: "Our conversion of the wastewater treatment plant into a green power plant makes a valuable contribution to both a responsible use of natural resources and to sustainable power generation. The efficient technologies of our partner Siemens play a key role in achieving our ambitious environmental and climate targets."
Wolfgang Hesoun, Chief Executive Officer of Siemens AG Austria: "An essential factor of success for achieving the environmental targets of a city are the measures that generate maximum ecological and economic benefit. On the basis of extensive analyses we have managed, together with our customer, to develop a tailor-made solution that will help the largest environmental project ever undertaken by the city of Vienna to become a success. In doing so, we are focusing as much on energy efficiency, preservation of resources and sustainability as we are on smart technologies and networked systems."
The order includes the migration and expansion of the existing Simatic PCS 7 process control system to the latest Version 8.1. The conversion work is taking place in parallel with normal operations. All functions are tested already in the engineering phase with the Simit simulation software, enabling quality to be assured and commissioning times to be shortened. In addition, Siemens is supplying Sitrans process instrumentation, devices for gas analysis (Ultramat/Oximat), as well as Scalance network components, including cabling, installation and commissioning. For a safe, high-availability power supply to about 450 motors and drives in the sewage plant, Siemens is installing a redundant 20 kV medium-voltage power distribution system of the type NXAir (28 fields), Sivacon S8 low-voltage power distribution systems (about 80 fields), a busbar trunking system, and 14 transformers. The protection devices of the existing systems and those of the new systems are equipped by Siemens with Ethernet-based communication interfaces. The redundant SICAM AK 3 station control technology processes all data points from the energy supply and delivers these to the higher-level switchgear control technology and subsequently for the overall monitoring of the new process control system.
For more, see www.siemens.com/water
Source: Neptune
Photo/video source: