Epson BrightLink Interactive Projectors Now To Be Bundled Worldwide with SMART Notebook Software
It is now easier than ever for educators to obtain the world's leading collaborative learning software along with market leading collaborative displays. Epson, the number-one projector manufacturer in the world1, and SMART Technologies Inc. (NASDAQ: SMT) (TSX: SMA), a leading global provider of collaboration solutions, today announced an agreement where SMART Notebook® collaborative learning software will now be included with Epson BrightLink® interactive projectors worldwide. The addition of SMART Notebook software to Epson interactive projectors provides a potent combination for collaborative learning.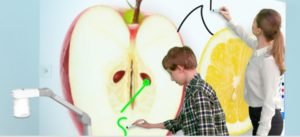 "We're delighted to extend the reach of our longstanding partnership with Epson to a global offering," said Greg Estell, Solutions President, SMART Technologies. "SMART Notebook allows educators to easily create engaging, interactive learning in a way that's natural to both teachers and students, and now they can do so on any Epson BrightLink projector."
"Educators are seeking the best hardware and software solutions to help them teach effectively, and to drive student engagement and learning outcomes," said Keith Kratzberg, Senior Vice President, Epson America, Inc. "This partnership speaks directly to the needs of teachers to create engaging, impactful and fun lessons, as well as to respond to the needs of learners in real-time. By bringing together these leading interactive classroom technologies, we are providing the tools to meet those needs."
Building upon the already established software relationship between the two companies that has enabled Epson to sell SMART Notebook software along with its interactive projectors in certain global markets since 2013, the new agreement allows Epson to bundle SMART Notebook software, including a SMART Notebook Advantage subscription during the first year, with Epson BrightLink interactive projectors as a standard offering on a worldwide basis. The SMART Notebook Advantage subscription lets customers upgrade to new versions of Notebook software in that first year, as well as access technical support and unlock premium features within Notebook.
This winning combination allows educators around the world to use the number-one selling interactive projector1 with collaborative learning software to create visually compelling, engaging and interactive learning experiences. Epson's complete BrightLink interactive projector line is tested and fully authorized by SMART for use with SMART Notebook software, and SMART Notebook fully supports BrightLink interactive features such as dual pen and finger-touch. Both Epson and SMART will provide customer support and training for their respective products, giving educators full confidence as they bring more collaboration into classrooms and other learning spaces.
Availability
Epson BrightLink interactive projectors with SMART Notebook software entitlements will begin shipping in North America in November 2015 and throughout other regions of the world in early 2016. For additional information, visit www.epson.com/brightlink.
About Epson BrightLink Interactive Projectors
The award-winning Epson BrightLink line of short-throw and ultra short-throw interactive projectors offers advanced connectivity options to project onto any existing whiteboard, wall or other smooth, light-colored, hard surface. BrightLink interactive projectors offer dual pen support and PC-free annotation with a range of devices including document cameras, DVD and Blue-ray players as well as tablets and mobile devices, or no source at all. The cost-effective BrightLink models deliver a large interactive learning area with variable image sizes and include HDMI connectivity. Epson projectors offer 3x higher color brightness than leading competitive projectors2. Epson BrightLink projectors utilize 3LCD, 3-chip technology for brilliant images with vivid color.
As a leader in innovation and partnership, Epson also offers the Brighter Futures® program, a unique sales and support initiative available specifically for schools. Designed to help educators select and implement the best products for their classrooms while making the most of their budgets, Brighter Futures offers special pricing, extended Epson limited warranty coverage for three years, dedicated education account managers, and toll-free technical support for all Epson projectors and associated accessories.
About Epson
Epson is a global technology leader dedicated to driving innovations and exceeding customer expectations in printing, visual communications, quality of life and manufacturing. Epson's lineup ranges from inkjet printers, printing systems and 3LCD projectors to industrial robots, smart glasses and sensing systems and is based on original compact, energy-saving, and high-precision technologies.
Led by the Japan-based Seiko Epson Corporation, the Epson Group comprises nearly 72,000 employees in 93 companies around the world, and is proud of its contributions to the communities in which it operates and its ongoing efforts to reduce environmental burdens.
About SMART Notebook
SMART's award-winning Notebook software allows educators to bring relevant and customizable content to their lessons, while its wide selection of intuitive tools and features help to quickly and easily create and deliver lessons that are engaging and impactful. The included one year SMART Notebook Advantage subscription lets you unlock premium features and upgrade to new versions of SMART Notebook software, and access live technical support. Supported by the SMART Exchange™ website, teachers can find resources, share lesson material and exchange tips and success stories about using SMART products in the classroom. With more than 65,000 digital resources available in 23 languages, teachers have access to images, videos, and pre-created SMART Notebook files and lesson activities correlated to curriculum standards.
About SMART
SMART Technologies Inc. (NASDAQ: SMT, TSX: SMA) is a world leader in simple and intuitive solutions that enable more natural collaboration. We are an innovator in interactive touch technologies and software that inspire collaboration in both education and businesses around the globe. To learn more, visit smarttech.com.
Source: Smart
Photo/video source: Adwar Video