Pupils become 'Smart Scientists' for a day to learn about energy with E.ON
Primary school pupils from across the country have had the chance to become 'Smart Scientists' for a day and learn how to save energy as part of E.ON's Smart Kids education programme.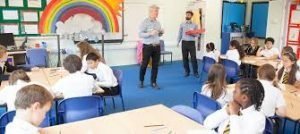 Over 3,200 pupils, from Years 3 to 6 at the schools, have taken part in the interactive workshops to understand more about energy, where it comes from and how to use it efficiently in the home. The pupils completed a series of hands-on games and activities with the support of Professor Smart Alec and his assistant Neon Bright.
During the sessions pupils donned their white lab coats and worked against the clock to help Professor Smart Alec regain his smartness by the end of the lesson.
Victoria Cousins, Head Teacher at Wessington Primary School in Derbyshire, one of the schools who have taken part in the activity, said: "The Smart Kids workshop is a great way for children to learn all about energy and how to use it wisely in the home in a fun and interactive way. The session was pitched at the right level and the children were really engaged with the activities from the beginning.
"Professor Smart Alec and his sidekick Neon Bright were very entertaining and both the children and teachers thoroughly enjoyed the session.   The children have learned some useful tips which they can take home and use around the house to help them and their families to save energy."
Alison Gibson, Senior Community Relations Officer at E.ON, said: "To be able to reach so many primary school pupils with this activity is really great.  E.ON's Smart Kids programme complements the national science curricula, with practical elements enabling young children to learn about energy in a fun and informative setting."
Source: EnergyExperience
Photo/video source: EdComs