New IRENA App Delivers Global Renewable Energy Data Straight to Your Pocket
Mobile app provides free data on renewable energy potential across the globe
Smartphone users can now access the most reliable data on global renewable energy potential, for free, thanks to an application launched today by the International Renewable Energy Agency (IRENA). The Global Atlas pocket, now available on all platforms including BlackBerry® 10, iOS, Android™ and Windows Phone®, is the only global tool of its kind, combining 1,000 maps from 67 governments and 50 data centres to provide information on renewable energy resources anywhere in the world.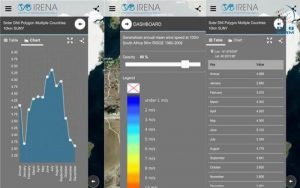 "One of the major hurdles to worldwide renewable energy deployment is to mobilise investment flows commensurate with global needs," said Adnan Z. Amin, IRENA Director-General. "The Global Atlas pocket helps bring more investment certainty to renewable energy prospectors and investors. Users can freely access data from geothermal potentials in the Caribbean to solar potentials in the Middle East and anything in between. It is an incredibly powerful tool."
The app turns mobile devices into renewable energy prospectors and can help answer questions like, can renewable energy power 100 per cent of this island? What percentage of this city can be powered by solar energy? If I want to invest in a wind power project, where are the highest potential locations?
It allows user to screen renewable energy project sites before making investment decision, create content on clean energy potentials in areas of interest and access images of growth areas for renewable energy infrastructure opportunities. It also comes with a powerful combination of search functionalities including geolocation services, personalized search categories, map views and sharing capabilities.
The Global Atlas pocket is the mobile version of the online Global Atlas portal, which aims to provide access to the necessary datasets, expertise and financial support to help countries evaluate their national renewable energy potential.
Partner quotes:
Michel Jarraud, Secretary-General of the World Meteorological Organization:
"Collaboration between the WMO and IRENA enables better understanding of the energy sector's specific requirements and enhanced access to tailored climate services to support the uptake of renewable energy. WMO welcomes IRENA's Global Atlas on Renewable Energy as a tool to support climate services for the energy sector."
Barbara J. Ryan, Secretariat Director of the Intergovernmental Group on Earth Observations:
"We enthusiastically applaud IRENA's release of the Global Atlas pocket. The pocket application is integral to making data and information about renewable energy more accessible to users around the world. The Global Atlas – both online and in the pocket format – is yet another example of the integral role of Earth observations in enabling better informed decision-making in areas of vital importance to our global society."
Jeffrey Harris, Chairman of the Board of Directors of Open Geospatial Consortium:
"Location communication is essential for all business enterprises and there is increasingly a demand for capable, mobile applications to further empower agile decisions across business and governments. Every energy asset and customer has location information that matters. The Open Geospatial Consortium is proud to help enable free, timely access to comprehensive, easy-to-use energy information data as part of IRENA's Global Atlas pocket. Understanding and managing renewable energy opportunities is an important ingredient in developing the full potential of Smart Cities."
Anita Marangoly George, Senior Director of the World Bank's Energy and Extractives Global Practice:
"Through its Energy Sector Management Assistance Program, the World Bank is making data-rich renewable energy resource maps of 12 developing countries available through IRENA's Global Atlas. As renewable resources take on a central role in countries' energy planning, this information becomes increasingly important to governments, citizens and the private sector. The Global Atlas pocket app will increase the number of people using and interacting with this valuable catalogue of data, and we look forward to working with IRENA to further improve accessibility."
Peter Ng, Senior Director of Global Alliances and Business Development at BlackBerry:
"We're pleased to make the Global Atlas pocket application developed by IRENA available to our BlackBerry 10 users. The application is natively developed for the BlackBerry 10 platform and brings a wealth of information about renewable energy resources to users, including government organizations and renewable energy industries globally, for free."
Michael Mansour, Head of Apps and Innovation at Microsoft Gulf:
"Microsoft is constantly using its innovative technology to bridge the information gap by creating a platform and tools that empower people to craft ideas and share important knowledge geared towards sustainable development. We are happy to partner with IRENA in making The Global Atlas pocket app a success and we are confident that it will help in encouraging initiatives on renewable energy around the world. Microsoft will continue to support similar initiatives that exhibit great potential to uplift the well-being of communities and also address the world's future needs."
Source: IRENA
Photo/video source: WAM