Siemens Healthcare displays new products and solutions for radiology
Cloud-based network "teamplay" supports radiology experts
Magnetom Amira – helps saving operational costs
High process efficiency in mobile X-ray with Mobilett Mira Max
New CT scanner brings dual energy procedure to clinical routine
At this year's European Congress of Radiology (ECR) in Vienna, Austria, Siemens Healthcare displays a range of new products and solutions for radiology. They are designed to contribute to an increased quality of care while reducing costs in healthcare systems worldwide.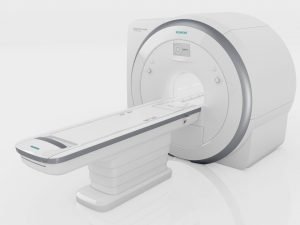 Connecting experts and increase the usability of data – with "teamplay"
One of the solutions presented for the first time in Europe is cloud-based network1"teamplay". With this IT solution, Siemens Healthcare aims to helping connect healthcare experts and increasing the usability of the wealth of medical imaging data. "teamplay" helps link hospitals and healthcare experts to provide them with the ability to exchange data and pool their knowledge.
"teamplay" makes it possible to evaluate information from the radiology department – e.g. scanner capacity utilization, examination times or radiation doses – and to compare the numbers against in-house and third-party reference values. This means imaging devices can be analyzed in close to real time and their operation optimized based on the results, right down to individual device level. Because "teamplay" runs on tablets, laptops and desktop PCs, members of the network have flexible access to the information, subject to the appropriate authorization and security measures.
Magnetom Amira – helps saving operational costs
At this year's ECR, Siemens Healthcare also presents its latest MRI scanner Magnetom Amira. The new 1.5-tesla MRI scanner offers the same technologies that are available on the Siemens flagship MRI systems. The new technology FREEZEit enables free-breathing body examinations, while gaining diagnostic confidence. Patient-friendly applications such as "Quiet Suite", which reduces sound pressure by up to 97 percent, are also available with the system. Many examinations can be scheduled for 10 minutes, enabling a larger number of patients to undergo scans in routine applications.
Magnetom Amira also stands out against other scanners on account of its lower operating costs. Magnetom Amira is the first MRI scanner to be equipped with the "Eco-Power" technology, which monitors and controls the state of the helium that is responsible for cooling the magnet. Power savings of up to thirty percent can be achieved in standby mode compared to when the feature is not activated. Combined with the overall low power consumption and Zero Helium Boil-off technology – which prevents helium from evaporating – up to 20,000 euros can potentially be saved annually with Magnetom Amira compared to Magnetom Symphony generation MRI systems2. By combining high image quality with comparatively low costs per scan, Magnetom Amira meets the requirements of radiology practices, small and medium- sized hospitals as a first or second MRI or larger facilities that are looking for a system to complement their existing devices.
High process efficiency in mobile X-ray with Mobilett Mira Max
At ECR, for the first time in Europe, Siemens Healthcare displays Mobilett Mira Max, a fully digital mobile X-ray system that helps to speed up the examination workflow while decreasing overall operating costs in the process. Mobilett Mira Max has been developed for both versatile everyday use and for demanding clinical situations, where rapid image availability and high image quality are vital.
Mobile X-ray systems are being used in a range of applications – from broken legs to lung examinations, from newborns to trauma patients. Advantages of mobile systems are that there is no need to transport the patient and examinations can be performed even in quite small spaces. The important factors here are intuitive operation and very high image quality to provide diagnostic certainty, especially when seconds count.
Mobilett Mira Max comes with so-called MAX (Multiple Advances in X-ray) functions that support users in their everyday work (MAX assistance) and have a positive effect on image quality (MAX detection). The advantages of MAX assistance are clear when it comes to ease and speed of operation: the system is equipped with a special tube arm that offers nearly unrestricted visibility while being moved, and also provides particular positioning flexibility. The integrated detector holder has been designed to enable the operator to maneuver the system with convenient foot space. For even higher image quality than previously available, Siemens provides two new detectors for Mobilett Mira Max, as part of the MAX detection function: the extra-compact MAX mini detector measuring 24 cm x 30 cm, which, for example, is ideally suited for examinations in an incubator or of smaller joints. The MAX wi-D detector (35 cm x 43 cm) weighs only three kilograms and is automatically recharged on the system during transportation. The detectors can be easily, quickly and safely shared between the MAX portfolio of radiography, fluoroscopy and mobile X-ray systems.
Somatom Definition Edge brings dual energy procedure to clinical routine
At this year's ECR congress, Siemens Healthcare presents the new version of the Somatom Definition Edge, which paves the way for establishing single source dual energy in clinical routine. In dual energy imaging, the same region of the body is examined using two different energy spectra. The two datasets offer more detailed information about tissue composition that goes beyond pure morphology. For instance, measuring the iodine content in lesions helps to differentiate between uptaking lesion and hyperdense cysts or a precise bone removal helps to grade stenoses.
The innovative X-ray tube concept in the new CT scanner enables simultaneous imaging of the two different energy levels in an entirely different way than ever done before in single source computed tomography. Thanks to this novel user- and patient-friendly measurement method, the Dual Energy information can be obtained in one easy to use scan mode that practically does not differ from a routine CT examination, even during examinations with high contrast media dynamics. In addition, this allows that dose reduction methods like dose modulation or iterative reconstruction can be applied in parallel, avoiding unnecessary over-radiation of the patient. In conclusion more patients will benefit from the added value of dual energy imaging. Behind all this is the TwinBeam Dual Energy technology from Siemens Healthcare, in which the X-ray beam emitted is split into two different energy spectra before reaching the patient thanks to an innovative tube design. This means that the Somatom Definition Edge generates the dual energy images at the same time.
New angiography applications for increased diagnostic confidence
Two new clinical applications for angiography are also presented at ECR: Syngo Dyna4D will now, for the first time, enable time-resolved 3D imaging in angiography. Syngo DynaCT Smart removes metal artifacts and allows the physician to e.g. detect bleedings close to metallic objects.
In contrast to current 3D image acquisition methods, Syngo Dyna4D uses a modified protocol, which makes it possible to combine spatial and temporal resolution ("3D+t"). Siemens is the first and only manufacturer to succeed in making this "fourth dimension" visible: Thus, the physician can track the passage of contrast medium in real time and precisely see how quickly and to what extent the patient's vessels are filled. This means that the therapy can be more precisely adapted to the individual patient.
Syngo DynaCT Smart is another new application. Metal objects in the body, such as surgical clips or coils like those used in aneurysm therapy, cause massive streak metal artifacts to occur in CT or CT-like imaging as delivered with Syngo DynaCT. This makes it impossible to analyze the areas around such metal objects for diagnostic purposes. Thus, directly after implantation, important information that would help to determine whether complications such as hemorrhages have arisen in the vicinity of the metal object is withheld from the physician. Siemens Healthcare has successfully developed a new algorithm called Syngo DynaCT Smart, which removes those streak artifacts caused by metal from the image and visualizes the regions in close vicinity of the metal in a diagnosable manner.
PET/CT system with smooth movement, fully integrated xSPECT system
In the field of molecular imaging, Siemens Healthcare presents two systems at its booth: The Biograph mCT Flow positron emission tomography/computed ECR tomography (PET/CT) system overcomes the limitations of conventional bed-based, stop-and-go PET/CT imaging with FlowMotion, an innovative technology that moves the patient smoothly through the system's gantry while continuously acquiring PET data. Biograph mCT Flow with FlowMotion enables imaging protocols based on the individual organ of interest, leveraging the finest volumetric resolution3. FlowMotion expands accurate, reproducible quantification in all dimensions for precise disease characterization in therapy monitoring, while enabling physicians to offer as low as reasonably achievable (ALARA) dose to every patient. Additionally, the combination of a 78 cm bore with five-minute ultrafast scanning and a continuous sense of progress throughout the scan offers a potentially more comfortable exam experience for the patient.
Symbia Intevo is the world's first xSPECT system, combining the high sensitivity of single photon emission computed tomography (SPECT) with the high specificity of CT. Completely integrating data from both modalities, Symbia Intevo generates high-resolution and, for the first time ever, accurate and reproducible quantitative images for SPECT. Siemens' xSPECT modality reconstructs both the SPECT and CT portions of the image using the high-definition CT frame-of-reference for precise, accurate alignment that results in more clinical detail, which supports physicians' ability to more confidently distinguish between degenerative disease and cancer. Symbia Intevo's quantitative capabilities facilitate physician therapy planning and early modification of patient treatment to reduce costs associated with ineffective therapies.
1 Prerequisites include: connection to a network, meeting recommended minimum hardware or browser requirements, and adherence to local data security regulations
2 As an example, a comparison based on typical cost structures in Japan shows potential savings in operating costs up to 20,000 euros; savings depend on individual use of the device and other factors and may vary.
3 Based on volumetric resolution available in competitive literature for systems greater than 70 cm bore size. Data on file.
Source: Siemens
Photo/video source: Siemens